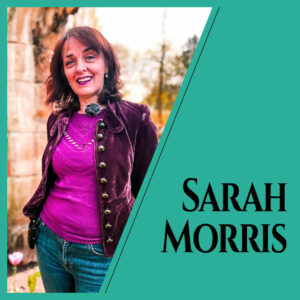 Dr Sarah Morris was born and bred in England and now lives in the picturesque Oxfordshire countryside.
In 2010, she began writing her first Tudor novel, "Le Temps Viendra: a Novel of Anne Boleyn". This was published in 2012, followed closely thereafter by two non-fiction books: "In the Footsteps of Anne Boleyn" (2013) and "In the Footsteps of the Six Wives of Henry VIII" (2015). Both were No 1. Amazon Bestsellers.
As the In the Footsteps books attest to, Sarah has a particular passion for historic buildings. She knows that when we visit a place, we can connect more directly with the past. She adores sharing her love of England's history and Tudor places. Thus, in 2018, she launched The Tudor Travel Guide, an online brand that weaves the stories of Tudor history and people with the places in which those stories unfolded.
Sarah not only writes regular in-depth blogs that put Tudor buildings and their history under the spotlight, but she creates 'on-location' podcasts (The Tudor History & Travel Show) and videos (YouTube: The Tudor Travel Guide) which aim to inspire and educate. She also runs tours and annual Tudor-themed events, such as her 'Live Like a Tudor Weekend'
On TV, she has featured in "A Tale of Two Sisters" on Yesterday TV as the 'Boleyn expert', talking about the relationship between Anne and Mary Boleyn, and on "Les Secret D'Histoire", a hugely popular French TV series, (10 million viewers) speaking about Mary I.
Blog: https://thetudortravelguide.com
YouTube: https://youtube.com/c/thetudortravelguide
Podcast: text
Social Media:
Instagram: @thetudortravelguide
Twitter: @TheTTGuide
Facebook:
Private FB Group: https://www.facebook.com/groups/449894509097849
Main Page: https://www.facebook.com/thetudortravelguide
Sarah is talking at my Anne Boleyn, the Woman who Changed England event, with Natalie Grueninger on "In the Footsteps of the Early Years of Anne Boleyn".