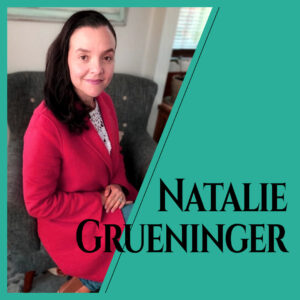 Natalie Grueninger is a researcher, author, podcaster and educator, who lives in Australia with her husband and two children.
In 2009 she created On the Tudor Trail, a website dedicated to teaching and promoting Tudor history.
Natalie is fascinated by all aspects of life in Tudor England and has spent more than a decade researching the period. She's also passionate about amplifying women's voices and building supportive and uplifting online communities.
Her first non-fiction book, co-authored with Sarah Morris, "In the Footsteps of Anne Boleyn", was published by Amberley Publishing in the UK in September 2013. Book number two in the series, "In the Footsteps of the Six Wives of Henry VIII", was released in the UK in March 2016. In 2017, Natalie collaborated with illustrator Kathryn Holeman to create "Colouring History: The Tudors", a unique and beautifully illustrated colouring book for grown-ups that features images and scenes inspired by the ever-fascinating Tudor dynasty. The second book in the series, "Colouring History: Tudor Queens and Consorts", was released in May 2018.
Natalie's first solo book, "Discovering Tudor London", was published in the UK by The History Press in August 2017. She is currently working on a book about the final year of Anne Boleyn's life, due for publication in November 2022.
Natalie is the host of 'Talking Tudors', a podcast for lovers of Tudor history, and the founder of the Women's History Circle, dedicated to promoting the work of women creatives with a passion for history.
Natalie is talking, with Sarah Morris, at my Anne Boleyn, the Woman who Changed England event on "In the Footsteps of the Early Years of Anne Boleyn".