The Rise of the Tudor Dynasty -2023 – ENDED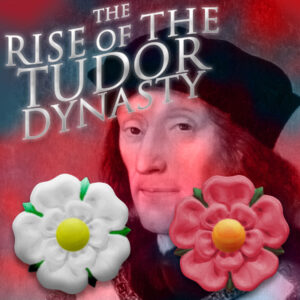 The Wars of the Roses and the rise of the Tudor dynasty are crucial chapters in English history, characterised by political intrigue, power struggles, and dynastic conflicts.
This period, spanning from 1455 to 1485, witnessed a series of battles and upheavals as two rival royal houses, the House of Lancaster and the House of York, vied for control of the English throne. The ultimate victor was Henry Tudor, who became Henry VII and established the Tudor dynasty. His reign saw the end of the Wars of the Roses and the beginning of a new era in English history.
But who was Henry Tudor and how did he rise to become King of England? And who were the key players in his story?
Learn all about the beginnings of the Tudor dynasty in this interactive online event through video talks, Zoom Q&A sessions, Zoom discussions and chatroom chats with reputable historians.
Hosted by me, historian and author Claire Ridgway, this completely online event will feature talks from me, Nicola Tallis, Matthew Lewis, Nathen Amin, Elizabeth Norton and Julian Humphrys, all recognised experts in their fields.
If you don't know me, I'm the author of fourteen history books, including On This Day in Tudor History, and the founder of the Anne Boleyn Files and Tudor Society sites. I've always enjoyed connecting Tudor history lovers with experts and I became even more passionate about this during the recent worldwide pandemic. People couldn't travel to see historians and authors speak, they couldn't participate in physical events, and some people just don't have the opportunity to do so anyway. I had experience of bringing Tudor history to people online so I decided to create online Tudor history events where people could learn about their favourite era and characters without leaving home, talk Tudor to their heart's content with other like-minded people (not people whose eyes glaze over!), share their views and "grill" reputable historians in real time. It's important to me that I choose experts who are interesting to listen to, who really know their stuff, and who are truly passionate about their subjects and enjoy sharing this passion with others.
I've been overwhelmed by the response to my previous five events, with many people signing up time after time ! I invite you to join us for The Rise of the Tudor Dynasty. Let's learn and have fun while doing it!
---
Schedule
Monday 18 September – Livestreamed introductory talk and "get to know you" via Zoom with event host, Claire Ridgway, at 10pm UK / 5pm New York time.
Tuesday 19 September – Talk on "The Wars of the Roses" by Matthew Lewis. Informal Zoom discussion hosted by Claire Ridgway on books about the Plantagenets, Wars of the Roses and the Tudors, at 10pm UK / 5pm New York time.
Wednesday 20 September – Talk on "Queen Elizabeth Woodville" by Elizabeth Norton, Q&A session with Matthew Lewis via Zoom at 10pm UK / 5pm New York time.
Thursday 21 September – Talk on "Richard III" by Matthew Lewis, Q&A session with Elizabeth Norton via Zoom at 10pm UK / 5pm New York time.
Friday 22 September – Talk on "The Rise of Henry VII" by Nathen Amin, Q&A session with Matthew Lewis via Zoom at 10pm UK / 5pm New York time.
Saturday 23 September – Talk on "The Battle of Bosworth" by Julian Humphrys, Q&A session with Nathen Amin via Zoom at 10pm UK / 5pm New York time.
Sunday 24 September – Talk on "Lady Margaret Beaufort" by Nicola Tallis, Q&A session with Julian Humphrys via Zoom at 10pm UK / 5pm New York time.
Monday 25 September – Talk on "Elizabeth of York: Henry VII's Queen of Hearts" by Claire Ridgway, Q&A session with Nicola Tallis via Zoom at 10pm UK / 5pm New York time.
Tuesday 26 September – Livestreamed talk on "The Tudor Dynasty and their Legacy" by Claire Ridgway followed by a Q&A session via Zoom at 10pm UK / 5pm New York time.
Wednesday 27 September – Zoom discussion on the Tudor Dynasty at 10pm UK / 5pm New York time hosted by Claire Ridgway.
---
Meet our Experts and read about their talks
Claire Ridgway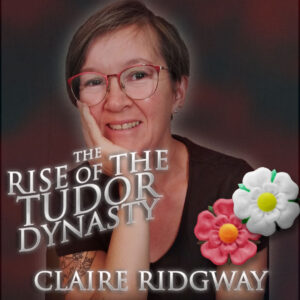 Historian Claire Ridgway is a Fellow of the Royal Historical Society and the best-selling author of 14 history books, including "The Boleyns of Hever Castle" (co-written with Dr Owen Emmerson), "The Fall of Anne Boleyn: A Countdown", "George Boleyn: Tudor Poet, Courtier and Diplomat" (co-written with Clare Cherry, "The Anne Boleyn Collection" and its two sequels, "On This Day in Tudor History", and "On This Day in Tudor History II".
Claire is also the founder of The Anne Boleyn Files and Elizabeth Files blogs, The Tudor Society, and the popular Anne Boleyn Files and Tudor Society YouTube Channel. She contributed to the recent BBC docudrama "The Boleyns: A Scandalous Family", has written for BBC History Extra and All About History Magazine, and been featured on a number of podcasts and radio stations internationally.
Claire will be speaking to us on "The Tudor Dynasty and their Legacy" and "Elizabeth of York, Henry VII's Queen of Hearts", as well as hosting the zoom discussions and Q&A sessions.
---
Matthew Lewis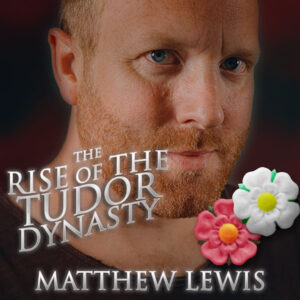 Matt Lewis is a medieval historian and author with a particular interest in the Wars of the Roses and Richard III. He has written biographies of Henry II & Eleanor of Aquitaine, Henry III, Richard Duke of York and Richard III, as well as accounts of The Anarchy, the Wars of the Roses and the Princes in the Tower. Matt also hosts History Hit's Gone Medieval podcast and is currently Chair of the Richard III Society.
Matt will be doing two talks for us, one on The Wars of the Roses and the other on King Richard III:
The Wars of the Roses: Spanning 30 years, the Wars of the Roses is a complex series of confrontations that escalated into dynastic war before witnessing the fall of the House of York that saw the sun set on the Plantagenet dynasty and ushered in the Tudor dawn. In this talk, Matt Lewis will explore how division grew into war, the arguments around succession, and what led to the Battle of Bosworth and the rise of the Tudors.
Richard III: Love him or hate him, and there's very little in between, Richard III is a big story. Why does a king who only ruled for just over two years attract so much attention and generate controversy more than 500 years after his death? How did Richard's childhood help to shape the man he became? Who was Richard, as Duke of Gloucester in the north, and as king? Can reputations as a good lord and tyrannical king be reconciled? What really led to his death at the Battle of Bosworth in 1485? Matt Lewis will seek to shed new light on the real story of Shakespeare's greatest villain.
---
Elizabeth Norton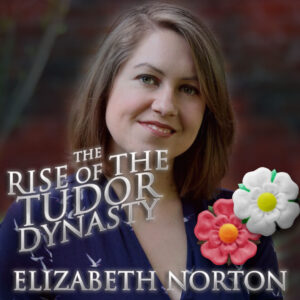 Dr Elizabeth Norton is a British historian, specialising in the Tudors and the queens of England.
She is the author of twelve books, including "The Temptation of Elizabeth Tudor" and "The Lives of Tudor Women". She regularly works as a historical consultant and appears on television, including recently in the BBC's "The Boleyns, A Scandalous Family". She was recently a finalist on the Christmas version of University Challenge, as part of Hertford College, Oxford's notable alumnae team. Elizabeth is currently writing an academic biography of Jane Seymour for Routledge.
Elizabeth will be talking to us on Elizabeth Woodville. Few English queen consorts have been more divisive or controversial than Elizabeth Woodville, whose life was one of great highs and crashing lows. The widow of a Lancastrian knight, she surprised the world with her secret marriage to Edward IV, while the very fact of her queenship was always controversial. Highly politically active, Elizabeth is remembered as a Machiavellian figure, who added her support to Henry Tudor in exchange for his promise to marry her daughter. Undoubtedly a major figure in the birth of the Tudor Dynasty, Elizabeth Woodville's life encapsulates the difficulties faced by a relatively lowborn woman entering into the highly charged royal politics of the late fifteenth century.
---
Nathen Amin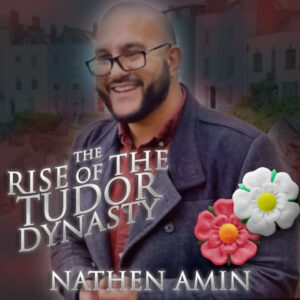 Nathen Amin is an author from Carmarthenshire, West Wales, who focuses on the 15th Century and the reign of Henry VII. He wrote 'Tudor Wales' in 2014 followed by the first full-length biography of the Beaufort family, 'The House of Beaufort' in 2017. His fourth book, 'Henry VII and the Tudor Pretenders; Simnel, Warbeck and Warwick', was released in 2021. Nathen has featured on British, Australian and German television discussing the early Tudors, as well as in print and online media across the UK. As of 2020, he is a trustee and founding member of the Henry Tudor Trust, and in 2021 was elected a member of the Royal Historical Society.
Nathen will be speaking to us on Henry VII. The Battle of Bosworth was the first battle fought in England since 1066 in which the anointed and crowned king was killed. In the slain king's place stood a man unknown to the English, one whose roots had most recently been located in Wales and France. Who was Henry Tudor, and how did this Welsh usurper become one of England's greatest monarchs?
---
Julian Humphrys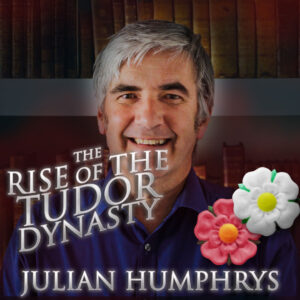 Julian Humphrys graduated in History from Emmanuel College, Cambridge before joining Chelsea's National Army Museum, where he set up a number of special exhibitions and was spokesman to the media on all matters of military history. He also made three expeditions to Bosnia during the Civil War to record the British Army's activities there and to obtain objects for display in the Museum. In 2002 he set up English Heritage's programme of guided visits to historic properties and battlefields. He continues to work as a battlefield guide and lectures on a wide range of tours for special interest travel companies. In 2009 he became Development Officer of the Battlefields Trust, the UK Charity dedicated to the preservation and interpretation of Britain's historic battlefields. He is now a Trustee of the charity and Chair of its Southeast Region.
A regular speaker on national and local radio, Julian has acted as a historical expert on numerous TV programmes and has written the scripts for multi-media and audio tours of sites including Culloden Battlefield, the Household Cavalry Museum, and the D-Day Story at Portsmouth. Over the years Julian has written and lectured on many aspects of British history, notably for BBC History Magazine and History Revealed Magazine. He is the author of Clash of Arms: Twelve English Battles, and Enemies at the Gate: English Castles under Siege (both for English Heritage) and contributed the English entries to Quarto's recently published Historic Battlefield in 500 walks.
Julian is a Fellow of the Royal Society of Arts and a visiting lecturer on battlefield studies at the University of Winchester.
Julian will be talking to us on the Battle of Bosworth. One of the most decisive battles in English history, Bosworth has been the subject of numerous books and countless articles over the years. But how much do we actually know about what happened there 538 years ago? In this talk Julian Humphrys will explain how archaeology has helped us locate where the battle was actually fought, and then take a critical look at what the sources available to us tell us about the battle. He'll discuss a range of topics including the size of the forces involved, the role of the French in Henry's army, the failure of some of Richard's troops to fight at all, and the actions of the two leaders.
---
Nicola Tallis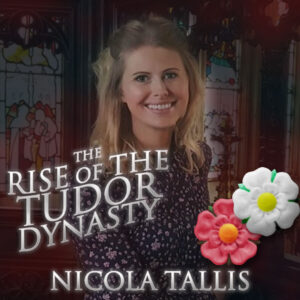 Nicola Tallis is a British historian and the author of four books, All the Queen's Jewels, 1445-1548: Power, Majesty and Display, Crown of Blood: The Deadly Inheritance of Lady Jane Grey, Uncrowned Queen: The Fateful Life of Lady Margaret Beaufort, the Tudor Matriarch and Elizabeth's Rival: The Tumultuous Tale of Lettice Knollys, Countess of Leicester.
She graduated from Bath Spa University with a first class BA Hons. degree in History in 2011, and from Royal Holloway College, University of London in 2013 with an MA in Public History. She completed her PhD on 'All the Queen's Jewels, 1445-1548', which examined the jewellery collections of the Yorkist and early Tudor queens, and the role of jewels during this period, in 2019.
Nicola completed an internship with the interpretation department at Hampton Court Palace which led to further work with the curatorial department, and she volunteered for the National Trust. She has also worked as the curator at Sudeley Castle, and featured prominently on BBC's Countryfile in April 2013, guiding at Sudeley. Additionally, she's worked as a historical researcher, and since 2013 has been one of the resident historians for Alison Weir Tours. She's also written for a number of history magazines, including BBC History Magazine, History Revealed and Explore, and has made numerous television and radio appearances.
Nicola will be talking to us on "Uncrowned Queen: The Fateful Life of Margaret Beaufort". During the bloody and uncertain days of the Wars of the Roses, Margaret Beaufort was married to the half-brother of the Lancastrian king Henry VI. A year later she endured a traumatic birth that brought her and her son close to death. She was just thirteen years old. As the battle for royal supremacy raged between the houses of Lancaster and York, Margaret, who was descended from Edward III and thus a critical threat, was forced to give up her son. Join Dr Nicola Tallis as she reveals the life of an extraordinarily ambitious and devoted woman who risked everything to ultimately found the Tudor dynasty.
---
What's included
10 days of talks and Q&A sessions with 6 historians.
Membership of our private Facebook group where you can interact with Claire and others who are part of the event.
Souvenir event e-book - Transcripts of all the chats and talks for you to enjoy.
Recommended reading and resources list.
Lifetime access to recordings and transcripts.
Regular Zoom call discussions leading up to the event so that you can get to know other event participants and enjoy discussing history.
By the end of this event, you'll have a fresh understanding of how one of the most famous royal dynasties came to the throne.
Many thanks for this brilliant event as well as the gifts and all the work involved. I've enjoyed it so much.