Elizabeth I online event – Our first talk has gone live and we have a live chat today!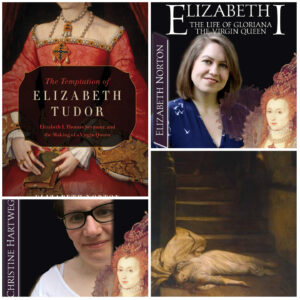 I'm so excited about my latest online event, "Elizabeth I: The Life of Gloriana, the Virgin Queen". It officially starts in September but I've been holding weekly group discussions on the Starz series "Becoming Elizabeth" - which have been great fun and very enlightening - and today our first historian talk goes live on the site.
In this first expert talk, I interview historian Christine Hartweg, author of "Amy Robsart: A Life and Its End", about the life of Amy Robsart, Robert Dudley's wife, and her death, which is still surrounded by controversy today. Christine is such an expert on Amy and I've learnt so much from her over the years. Christine will be doing a live Q&A on this topic on Saturday 23rd July in our private chatroom.
Later today, we have our third "Becoming Elizabeth" group discussion! We'll be sharing our thoughts on episode 3 and the history behind it. We're meeting via Zoom and it's a fantastic opportunity to talk Tudor with other Tudor history lovers.
AND, I've just added an 8th historian to the event! Dr Elizabeth Norton, author of "The Temptation of Elizabeth Tudor" and a biography of Catherine Parr, among other books, will be joining us to talk about the Elizabeth and Thomas Seymour scandal. Elizabeth will explore what we know about Thomas Seymour and Elizabeth in 1547 and 1548, and whether he did groom and abuse her. It's such an interesting topic and this time in Elizabeth's life had a huge impact on her.
Do join me, Elizabeth Norton, Linda Porter, Tracy Borman, Owen Emmerson, Christine Hartweg, Estelle Paranque and Elizabeth Goldring for "Elizabeth I: The Life of Gloriana, the Virgin Queen". It's completely online and open internationally. Registration is open now!