Register for Discovering Mary I January 2023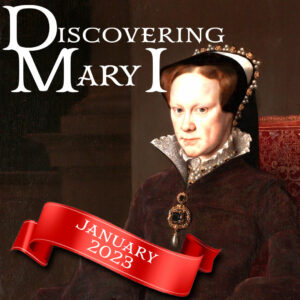 Online Mary I conference 16-27 January 2023
Place: Here on a private part of this website and also in a private Facebook group, private YouTube channel, and via Zoom.
Tudor historian Claire Ridgway and 7 other experts in 12 days of talks and Q&A sessions (plus zoom chats) exploring the life and reign of Mary I, England's first official queen regnant and a woman known as "Bloody Mary".
Hi,
I'm Claire Ridgway, author of thirteen Tudor history books.
Many of us thought that the recent Starz series, "Becoming Elizabeth", was actually more about "Becoming Mary" and we enjoyed this look at the pre-accession Mary. It is so disappointing that there's not going to be a second season. Fear not, though, I have planned an event which is going to flesh out Mary properly and get behind the very two-dimensional view we have of her as "Bloody Mary". There is so much more to Mary than the persecutions of her reign...
What was it like for Mary to go from being Henry VIII's "pearl of the world" to a banished bastard?
How did Mary go about taking the throne from Lady Jane Grey in July 1553? How did she succeed?
What was Mary's relationship like with her half-sister Elizabeth?
Why did Mary choose to marry Philip of Spain and was it a good decision?
How did Mary use her portraiture to create an image, and what image did she want to convey?
How did Mary's religious policies impact her subjects? Who exactly suffered under them? Who benefited from them? And who supported them?
How close was Mary to Eustace Chapuys, the imperial ambassador, and how did he help her?
Does Mary I really deserve the nickname "Bloody Mary"?
What was Mary I's reign like? How much did she achieve in just 5 years? Was it all bad?
Mary suffered episodes of ill-health throughout her life, but what do we know about her health, and what did she die of in 1558?
I have chosen the very best Mary I experts to be part of this interactive online Mary I conference. Talks are great, but we also learn through questions, so I've ensured we have plenty of time to 'grill' our experts in one-hour-long Q&A sessions.
Here is the 12-day schedule:
Day 1: Monday 16 January – Mary I's background – Livestreamed talk and Q&A session with Claire Ridgway 10pm UK / 5pm New York.
Day 2: Tuesday 17 January – Mary I and her father, Henry VIII – Talk by Melita Thomas. Informal live chat in chatroom 10pm UK / 5pm New York.
Day 3: Wednesday 18 January – The July 1553 Succession Crisis and the Rise of Mary I – Talk by Claire Ridgway. Live Q&A session in chatroom with Melita Thomas 10pm UK / 5pm New York.
Day 4: Thursday 19 January – Mary I and Spain – Talk by Dr Alexander Samson. Live Q&A session with Claire Ridgway 10pm UK / 5pm New York.
Day 5: Friday 20 January – Mary and Elizabeth – Talk by Dr Linda Porter. Live Q&A session with Dr Alexander Samson 10pm UK / 5pm New York.
Day 6: Saturday 21 January – The Marion Burnings and Mary I's Religious Policy – Talk by Gareth Russell. Live Q&A session with Dr Linda Porter 8pm UK / 3pm New York.
Day 7: Monday 22 January – Mary's Imagery – Talk by Peter Stiffell. Livestreamed Q&A session with Gareth Russell 10pm UK / 5pm New York.
Day 8: Tuesday 23 January – Not so Bloody Mary – Talk by Johanna Strong. Live Q&A session in chatroom with Peter Stiffell 10pm UK / 5pm New York.
Day 9: Wednesday 24 January – Mary and Chapuys – Talk by Dr Lauren Mackay. Live Q&A session in chatroom with Johanna Strong 10pm UK / 5pm New York.
Day 10: Thursday 25 January – The Reign of Mary I – Talk by Claire Ridgway. Livestreamed Q&A session with Dr Lauren Mackay 10pm UK / 5pm New York.
Day 11: Friday 26 January – Mary I's health and death – Livestreamed talk by Claire Ridgway followed by Q&A session 10pm UK / 5pm New York.
Day 12: Saturday 27 January – End of event informal Mary I chat via zoom 10pm UK / 5pm New York.
All talks and Q&A sessions will be recorded and transcribed, and you will have lifetime access to them.
It's also fun to talk Tudor with like-minded Tudor history lovers, so I've organised twice monthly zoom calls leading up to the event. We can talk about Mary I books, series and movies, representations of Mary... anything Mary themed. We all have different views of Mary I, so it will be good to share our viewpoints and to hear others'.
October 15 and 29 at 10pm London/ 5pm New York.
November 12 and 26 at 10pm London/ 5pm New York.
December 10 and 17 at 10pm London/ 5pm New York.
January 7 at 10pm London/ 5pm New York. The main event starts on 16th.
This event is for you if...
You want to get behind the "Bloody Mary" label and find out about the real woman and queen.
You want to understand Mary I's religious policies and why she persecuted Protestants.
You want to understand the challenges Mary faced growing up, fighting for the throne, and ruling as England's first official queen regnant.
You want to know the exact nature of Mary's relationship with Chapuys.
You want to understand Mary's decision to marry Philip of Spain.
You want to reassess this Tudor queen's reign.
You want to learn from Mary I experts and interact with them.
You relish the idea of talking Tudor with people whose eyes don't glaze over when you mention Tudor history!
You want some Tudor fun to look forward to!
Meet the Speakers
Dr Linda Porter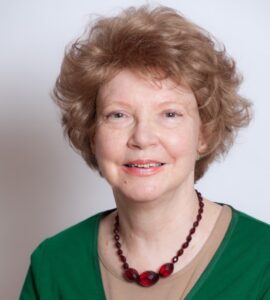 Linda Porter has a B.A. and a D.Phil from the University of York, where she studied under the direction of two inspirational professors, Gerald Aylmer and Gwyn A. Williams. She spent nearly ten years lecturing in New York, at Fordham and City Universities among others, before returning with her American husband and daughter to England, where she embarked on a complete change of career. For more than twenty years she worked as a senior public relations practitioner in BT, introducing a ground-breaking international public relations programme during the years of BT's international expansion. The attractions of early retirement were too good to miss and she has gone back to historical writing as well as reviewing for the BBC History Magazine, The Literary Review and History Today.
Her first book, Mary Tudor: The First Queen, was published to critical acclaim by Piatkus in the UK. It is available from St. Martin's Press in the US under the title The First Queen of England: The Myth of "Bloody Mary". This is a personal history of Mary I, the eldest of Henry VIII's three children.
The book shows that the popular image of Bloody Mary, the evil queen who sent hundreds of Protestant martyrs to the stake and effectively sold her realm to Spain, is an invention of Elizabethan propagandists. The real Mary suffered much in her tragic life but her memory has suffered even more. A determined and courageous survivor, Mary's life and reign deserved re-appraisal. Linda's book about Mary has been translated into Polish by Adam Tuz and published as Maria Tudor Pierwsza Królowa by Wydawnicrwo Astra in 2013.
Linda's second book is a biography of Katherine Parr, titled Katherine the Queen: The Remarkable Life of Katherine Parr and published by Macmillan. It is the first serious but accessible life of Henry VIII's last queen, a woman of intellect and charm who had a profound influence on the young Elizabeth I.
Her third book, Crown of Thistles: The Fatal Inheritance of Mary Queen of Scots, was also published by Macmillan. It is the story of the Tudor Stewart rivalry.
Her fourth book is Royal Renegades: The Children of Charles I and the English Civil Wars.
Linda won the Biographers Club prize in 2004. She is presently doing research for her fourth book.
Linda's talk is "'Partners both in throne and grave': the story of the relationship between Mary I and her sister, Elizabeth I". Numerous films and historical novels have depicted the relationship between England's first two queens regnant as bitter and adversarial. This may make good drama but it is far from the truth. In this lecture, Dr Linda Porter considers what lies behind one of the most famous sibling rivalries of the sixteenth century and how it has it has become part of national myth.
---
Peter Stiffell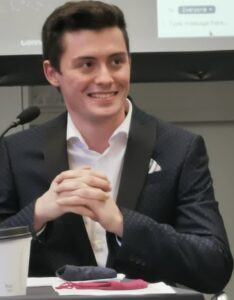 Peter Stiffell Is a PhD researcher at the University of Kent. His thesis examines the imagery of Mary I through portraiture and material culture.
He spends much of his time visiting galleries and archives looking at rare images of England's first crowned queen.
You can see/listen to his work on a number of podcasts including Tudors Dynasty and Inside Hever castle.
He has also written an article for Tudor Times where he explored the many images of Mary I.
Peter will be talking to us about the image of Mary I. To cement the love of her people Mary needed an influx of imagery; the easiest way was through portraiture and coinage. The power of iconography was used by all of England's kings; how would it evolve to mould a woman?
Peter will examine Mary's image through domestic and foreign portraiture and material culture to show Mary's success as the first Queen of England. This examination of portraiture by using artworks both commonly known and relatively unknown will show how the queen commanded imagery to create an image of monarchy not yet settled, that of a female king.
---
Gareth Russell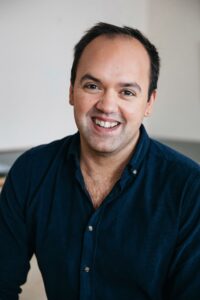 Gareth Russell gained his History degrees from Oxford and then Queen's, Belfast, with a research paper on the queen's household in the thirteenth century and a thesis on Catherine Howard's household in 1540-1.
He is the author of the bestselling biography of Queen Catherine, "Young and Damned and Fair," as well as "The Ship of Dreams: The Sinking of the Titanic and the End of the Edwardian Era," which was named a Book of the Year by the Times and a Best History Book of 2019 by the Daily Telegraph. He is also the author of "A History of the English Monarchy", "The Emperors", and "An Illustrated Introduction to the Tudors".
He has just finished writing "The Palace," about the people who have lived at Hampton Court, which is due for publication this year, and his book on the Queen Mother, "Do Let's Have Another Drink: The Singular Wit and Double Measures of Queen Elizabeth the Queen Mother", which he describes as "a confection of 101 of Queen Elizabeth's memorable quips, put-downs, and larger-than-life personality, one for each year of her life" is due out in October 2022.
Gareth was a contributor to the recent BBC docudrama "The Boleyns: A Scandalous Family" and he presents the weekly podcast "Single Malt History". He also played a role as a royal historian in the TV coverage of the events surrounding the death and burial of Queen Elizabeth II in September 2022.
Gareth will be talking to us about the Marian burnings and Mary I's Religious Policy. The accounts of Protestants - victims and propagandists - shaped Mary I's reputation for centuries. In the last two decades, they have been roundly discounted or dismissed, but should they be? How many of them can be taken seriously? This is an exploration of how the Marian religious policies impacted not only Protestants, but a very certain type of Protestants, by disproportionally focusing its attentions on those outside the elite. Although it is the names of Mary I's famous victims, like Thomas Cranmer, endure in popular memory, the names of hundreds of ordinary people who died for their faith, have been forgotten. From the burning of the 'proto-martyr' John Rogers in 1555 to Queen Mary's death in 1558, how did the Queen's religious policies impact her subjects, who suffered under them, who benefited from them, who supported them?
---
Melita Thomas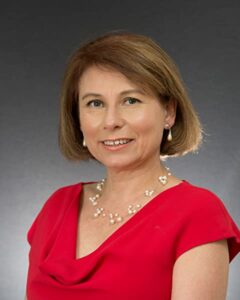 Melita Thomas is the co-founder and editor of TudorTimes.co.uk, a repository of information about Tudors and Stewarts in the period 1485-1625.
Melita has loved history since being mesmerised by the BBC productions of 'The Six Wives of Henry VIII' and 'Elizabeth R', when she was a little girl. After that, she read everything she could get her hands on about this most fascinating of dynasties. Captivated by the story of the Lady Mary galloping to Framingham to set up her standard and fight for her rights, Melita began her first book about the queen when she was 9. The manuscript is probably still in the attic!
Whilst still pursuing a career in business, Melita took a course on writing biography, which led her and her business partner to the idea for Tudor Times, and gave her the inspiration for writing "The King's Pearl: Henry VIII and his daughter Mary". The research for this book led her to want to know more about the Tudors' cousins, the Greys, who were prominent members of the court. The result was her second book, "House of Grey".
Currently, Melita is studying for a Master's in Historical Research at the University of London, and beginning research for her third book.
Melita's talk: For too long, Mary I of England has been referred to as 'Bloody Mary', but although that ugly name is now being rejected, at least in academic circles, a new legend is taking its place – that of Tragic Mary, a woman so bullied, browbeaten, and humiliated by her father, Henry VIII that it was a wonder she could function at all as a queen.
In her talk, Melita is going to give you quite a different picture of Mary and Henry's relationship. She is not, of course, going to deny that bullying and cruel treatment were a part of it, but that is not the whole story – the reality is far more nuanced. Mary and Henry had both a personal relationship and a political one, and it was the tensions between these two aspects that created conflict.
---
Dr Alexander Samson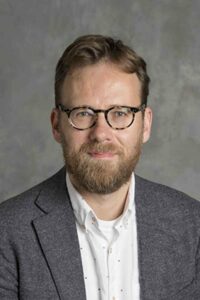 Dr Alexander Samson is Professor of Early Modern Studies in the Department of Spanish, Portuguese and Latin American Studies.
His research interests encompass the early colonial history of the Americas, Anglo-Spanish intercultural interactions and early modern English and Spanish drama. He has edited volumes on "The Spanish Match: Prince Charles's Journey to Madrid", 1623 (Ashgate, 2006), "A Companion to Lope de Vega" (Woodbridge: Tamesis, 2008) with Jonathan Thacker, "Locus Amoenus: Gardens and Horitculture in the Renaissance", a monographic Special Issue of Renaissance Studies (2012), and "Philip IV and the World of Spain's Rey Planeta" (Boydell and Brewer, forthcoming) with Stephen Hart. He has published articles and book chapters on everything from historiography and royal chroniclers in 16th century Spain to English travel writers, firearms, maps, John Fletcher, Cervantes, female Golden Age dramatists and historical fiction.
His book "Mary and Philip: the Marriage of Tudor England and Habsburg Spain" was published by Manchester University Press in 2020 and is now available in paperback. He is currently working on a book provisionally entitled "Hispanic Worlds in English Renaissance Culture", as well as editions of Lope de Vega's "Lo fingido verdadero" and James Mabbe's "Exemplary Novels". He runs the Golden Age and Renaissance Research Seminar and directs UCL's Centre for Early Modern Exchanges and the Centre for Editing Lives and Letters.
Alexander's talk will be "Mary I and Spain". Controversy over the depth, extent and nature of the Anglo-Spanish alliance and co-monarchy of Philip and Mary, 1554 – 58, registers a series of historiographical problems and controversies at the heart of current discussions in Tudor history from the religious complexion of England at the time of the Marian 'interlude' to the nature of the state and state formation across the period. This intervention makes the case for seeing the Spanish marriage in a positive light even if its eventual result was undermined by the absence of a direct heir.
---
Johanna Strong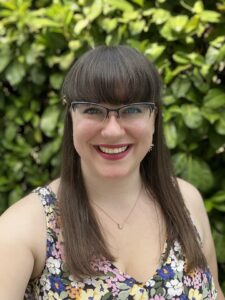 Johanna Strong is a final-year PhD candidate at the University of Winchester under the supervision of Dr Ellie Woodacre and Dr Simon Sandall. Titled "The Making of a Queen: The Effect of Religion, National Identity, and Gender on Mary I's Legacy in the English Historical Narrative", Johanna's PhD thesis examines the ways in which Mary I's legacy was posthumously created and how this legacy is perpetuated through to the Republican period. She completed her MA at Queen's University in Canada (her home country!) under the supervision of Dr Jeffrey Collins.
 
Her research has been featured in two Winchester Heritage Open Days "Hampshire HistBites" episodes, on the Team Queens blog, with Tudors Dynasty, on the Tudor Society site, on the Talking Tudors podcast, and most recently in a series for Winchester Cathedral. Her first chapter was published in early 2022 in Valerie Schutte and Jessica S. Hower's "Writing Mary I: History, Historiography, and Fiction".
Johanna's talk for us will be called "Not-so-Bloody Mary: Historical Challenges to One-Dimensional Interpretations of Mary I". Mary I, England's first crowned queen regnant, is often remembered by the general public by her moniker "Bloody Mary". But does she deserve this nickname? Drawing on research she undertook during her PhD, Johanna will examine how Mary's "bloody" reputation emerged during the 1620s to 1650s. At the same time, sources in this period often highlighted Mary's legitimacy and dynastic right to the throne, challenging the stereotypical one-dimensional interpretation of Mary with which so many of us are familiar. By looking at how historical authors portrayed Mary, this talk will argue why Mary's morbid nickname is perhaps ready for retirement.
---
Dr Lauren Mackay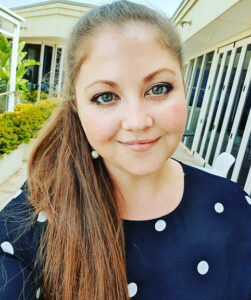 Dr Lauren Mackay, B.Mus, M.Hist, PhD, is an historian of Early Modern Europe, author, lecturer, and historical consultant, whose focus of study goes beyond familiar historical figures and events to lesser-known individuals, as well as beliefs, customs, and diplomacy of the 16th Century.
Lauren is the author of "Inside the Tudor Court: Henry VIII and his Six Wives through the eyes of the Spanish Ambassador" (Amberley, 2014), "Among The Wolves of Court: the Untold Story of Thomas and George Boleyn" (Bloomsbury Publishing, 2018), and "The Wolf Hall Companion" (Batsford Books, 2020). Her fourth book, "Thunder Through the Realms: Five Kingdoms and the shaping of Early Modern Europe" is due out late 2022 with Bloomsbury Publishing.
Lauren gives talks regularly around the UK for venues including Hampton Court, the Tower of London, Hever Castle, Windsor Castle, Leeds Castle, The National Portrait Gallery, London, and the BBC History weekends. Lauren is a regular contributor for BBC History and All About History magazines, and her television appearances include "Henry VIII and the King's Men" for Smithsonian Channel UK, and "The Boleyns: A Scandalous Family" which also drew on her PhD research.
In her talk for us, Lauren will be exploring Mary's relationship with the imperial ambassador, Eustace Chapuys.
---
Claire Ridgway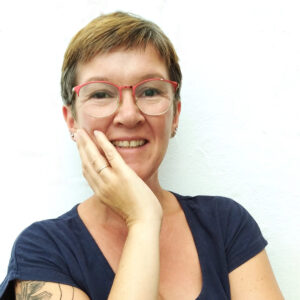 Historian Claire Ridgway is a Fellow of the Royal Historical Society and the best-selling author of 13 history books, including "The Boleyns of Hever Castle" (co-written with Dr Owen Emmerson), "The Fall of Anne Boleyn: A Countdown", "George Boleyn: Tudor Poet, Courtier and Diplomat" (co-written with Clare Cherry, "The Anne Boleyn Collection" and its two sequels, "On This Day in Tudor History", and "On This Day in Tudor History II".
Claire is also the founder of The Anne Boleyn Files and Elizabeth Files blogs, The Tudor Society, and the popular Anne Boleyn Files and Tudor Society YouTube Channel. She contributed to the recent BBC docudrama "The Boleyns: A Scandalous Family", has written for BBC History Extra and All About History Magazine, and been featured on a number of podcasts and radio stations internationally.
Claire will be doing several live-streamed talks. She will be talking about the succession crisis of 1553 and the rise of Mary I, The reign of Mary I, and Mary I's health and death.
What you get...
12 days of talks and Q&A sessions with 8 historians.
Twice-monthly zoom calls to discuss Mary I with other participants and Claire.
Membership of our private Facebook group where you can interact with Claire and others who are part of the event.
Souvenir event e-book - Transcripts of all the chats and talks for you to enjoy.
Recommended reading and resources list.
Printable PDF of Claire's forthcoming book "The Tudor Puzzle Book 2".
A fresh understanding of Mary I.
Register here
Many thanks for this brilliant event as well as the gifts and all the work involved. I've enjoyed it so much.